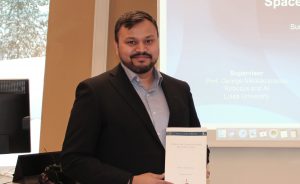 Sumeet Satpute has spent five years researching guidance and control for multiple spacecraft formation, resulting in a thesis and doctorate degree on 5 February 2021. Satputes research findings provides a roadmap for manufacturers and designers in building next-generation spacecrafts with ability to work collaboratively, all linked to one system. 
The RIT2021-sponsored project is a collaboration between Luleå University of Technology and OHB Sweden. Per Bodin, head os AOCS at OHB Sweden says:
– The research project has allowed OHB Sweden to gain further knowledge within the area of multi-satellite formations and autonomous collocation of telecom satellites. Both these areas relate to the core competence areas of the company but this project has provided us with a significant advancement in our knowledge that would not have been possible without the excellent work performed by Dr. Sumeet Satpute.
Following his graduation, Sumeet Satpute will remain in northern Sweden, commencing a post-doctorate research project at Luleå University of Technology. On behalf of the project partners in RIT2021, we congratulate Satpute on this milestone.
Find more details on Sumeet's research below.