RIT2021 presents a new innovation partnership between GKN Aerospace and Luleå University of Technology. The project aims to enhance performance and reduce time to market for rocket engines through additive manufacturing (AM). Over a five-year period, RIT2021 has launched this along with 13 other innovation partnership projects.
The competitive landscape in aerospace is changing fast, and the industry is looking for ways to increase production volumes while at the same time lowering costs and lead time. AM, or 3D printing, is a key to success.
Joint research key to drive innovation
For GKN Aerospace, a global supplier of rocket engine components, collaborative research and development is important to boost product innovation. Close university partnerships are a strategic asset for their research and development team and processes. Clas Andersson, project manager, explains the benefits of working with Luleå University of Technology:
– Through several projects, Luleå University of Technology has proven to leverage research results of high quality within areas of great importance to us and our long-term competitiveness, says Andersson.
The new research project is funded by RIT2021, a multi-layered injection into the aerospace ecosystem encompassing a budget of 5.6 million Euro. A key focus in RIT2021 is to drive innovation by increasing industry-academia partnerships in research and development. Thus far, RIT2021 has successfully launched 14 such joint collaborations between Luleå University of Technology and aerospace industry partners since 2015 – creating not just new applications of technology but also career opportunities and knowledge exchange.
Innovating product design guidelines – with and for the industry
The research will be conducted mainly by Didunoluwa Obilanade, together with Christo Dordlofva, PhD,, at Luleå University of Technology. The aim is to provide engineers with a validated framework for AM design and is a continuation of research by Christo Dordlofva concluded earlier this year. The research presented an initial framework but also identified the need to further understand how, where and why AM is applied to be able to develop useful guidelines for industry.
The outcome of research projects of this kind is dependent on partnerships with the industry as a source of case studies and data, as well as validation of theoretical frameworks. RIT2021 provides a forum for industry and academia to grow these partnerships, Dordlofva explains.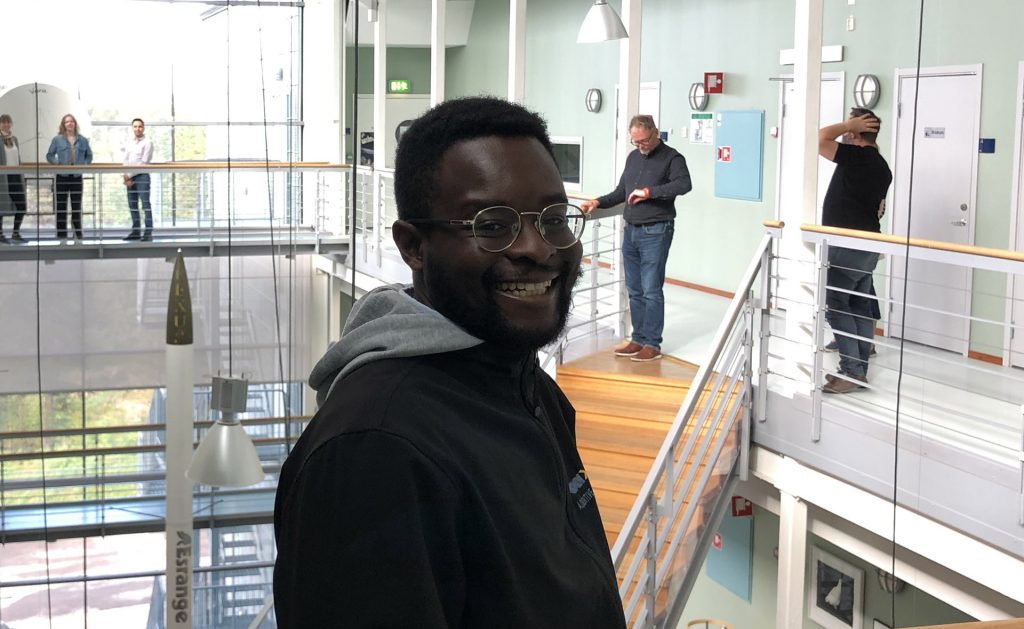 Didunoluwa Obilanade has always been fascinated by the rapidly evolving AM technology. This opportunity means he is not only relocating from the UK to Luleå, but also transitioning from an industry role to a PhD-position at the university – a welcome opportunity to develop his career:
– This project spoke to me instantly as it pushes and establishes the boundaries of AM technologies. I have been fascinated by AM in aerospace design, particularly for spacecrafts, ever since my master thesis and throughout my career as an aerospace engineer. When I saw the PhD position it was an easy decision to apply.
Background
RIT2021 is a regional development project in operation 2019-2021, aiming to boost innovation and cooperation in the aerospace sector. RIT2021 is operated by Luleå University of Technology, LTU Business, The Swedish Institute for Space Physics, Arctic Business and ESA BIC Sweden, with support from SSC – Swedish Space Corporation, OHB Sweden, GKN Aerospace, Region Norrbotten, Luleå Municipality, Kiruna Municipality, Sparbanken Nord & EU. More info on ritspace.se