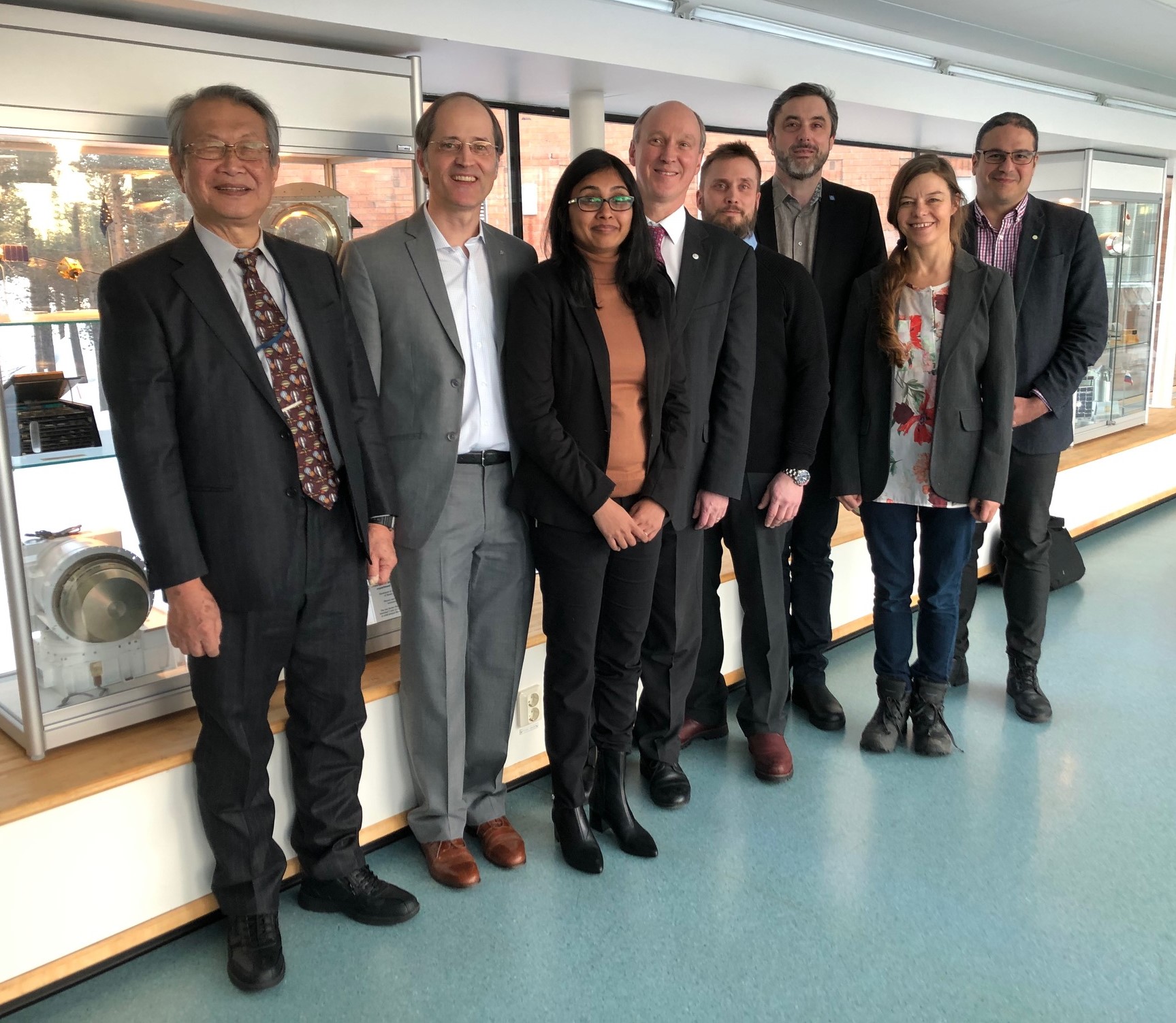 Kanika Garg (LTU) in the middle together with
the supervisors, opponent and grading committee.
In the first partnership of its kind, space researchers at Luleå University of Technology and SSC (Swedish Space Corporation) have explored the potential to automate stratospheric balloons. Kanika Garg is defending her doctoral thesis on 24 Jan.
The research collaboration is taking place within RIT2021 – a regional development project with focus on creating growth in the space sector. With a total of 5.6 million Euro, RIT2021 is supporting and facilitating development between 2019 and 2021 where industry-academia collaborative research is a key priority. To date, this has resulted in eight collaborative R&D projects between academics at Luleå University of Technology and leading Swedish space industry.
Problem-solving joint challenges
Kanika Garg, Luleå University of Technology, explains how applied research in close collaboration with a partner like SSC has presented unique opportunities.
– We're developing solutions to technical challenges for the sector. Having a private sector partner on board from the beginning has provided access to data and business intelligence that are otherwise difficult to come by.
Applied research presents unique synergies for both parties – not least knowledge transfer, but also access to expertise, data and contact networks. Kent Andersson, Kanika's industrial supervisor on behalf of SSC, says:
– Collaborating with Kanika and LTU has been an opportunity for us to expand our insight in a priority area as well as getting access to expertise that complements our needs and helps us to continue improving our offer.
Four new joint industry-academia research projects for SSC and LTU
– Our vision with RIT2021 is to leverage benefits for all stakeholders by uniting cutting-edge research and industry. With four new joint research projects planned with SSC, and other projects underway in partnership with GKN Aerospace and OHB, the benefits are clear, says Johanna Bergström-Roos, project manager of RIT2021.
Background
The global space economy is estimated to more than US$ 400 billion and is growing rapidly as new technology presents an unprecedented opportunity for private sector actors to enter the market. The growth is dominated by the satellite market.
For more information, contact:
Johanna Bergström Roos LTU Business | [email protected] | 070 544 60 21