Thanks to technology, space has become more easily accessible and more and more players see space as an enabler both in exploring space but also in exploring the earth and improving life on our own planet.
Using sophisticated technology, space can contribute to solutions within UN's 17 SDGs (Sustainable Development Goals within Agenda 2030
The RIT2021 project works with sustainability in different ways and we focus on social and environmental aspects.
Environmental aspect
The PhD students within RIT2021 have been looking at the environmental aspect of their work respectively. They used a special tool for self-assessment of the impact on global goals in order to identify: Positive effects (opportunities), Negative effects (risks) and Lack of knowledge.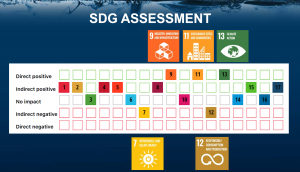 The 17 goals within Agenda 2030.